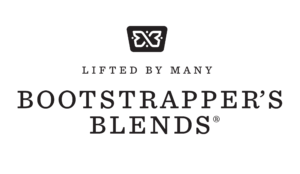 We've created a few products from Aronia Berries grown organically at our farm and built Bootstrapper's Blends as a platform for food and beverage creators (like us) and the good people who support them. We facilitate the production, promotion, and distribution of food and beverages made from recipes developed by independent people under the unified brand Bootstrapper's Blends while highlighting and compensating each person who creates and sells a product. Each product has a unique name and a section on its label recognizing the "Bootstrapper" who created the recipe for it.
We believe in working hard and making good with what we've got, in chasing our dreams and pressing on, and that support can always be found within community.  We would love for you to become part of this growing community. With your help we'll enable more people to create and sell their own food and beverage products free of upfront costs and risk.
Our first product was a Shrub made from a blend of our Aronia Berries, Apple Cider Vinegar, and Honey. Many people have been adding a shot of Apple Cider Vinegar and Honey to water as a health boost for years. We decided to add our berries to this tried and true mix to make it even more healthy and transform it into a really tasty daily drink blend. Blends of fruit and slightly sweetened vinegar were popular in old time America to flavor cocktails and sparkling water. Back then these blends were called Shrubs, so we're sticking with that silly name for this serious refreshment. Today many bartenders and mixologists have rediscovered Shrubs and are using them to craft awesome cocktails, sodas, and sparklers! And, now you can too!
New blends are being made regularly, so please visit our sister site to see what's available and order online https://bootstrappersblends.com/.